GRIP-TITE GARMENT BAGS
CANVAS-NYLON
THE
ORIGINAL
GRIP-TITE
CLAMP TOP!
STILL MADE
IN THE USA!
THE MOST EFFECTIVE WAY TO TRANSPORT ALL TYPES OF GARMENTS. MADE OF DURABLE CANVAS OR NYLON, THE "GRIP TITE" HOLDS UP TO [30] GARMENTS SECURELY IN A PATENTED 15" RUBBER LINED CLAMP WHICH PREVENTS HANGERS FROM SLIPPING BACK INTO THE BAG. USED WITH SALESMEN'S LOOP CHROME WIRE HANGERS, GRIP-TITES CAN BE TRUSTED TO SAFELY CONVEY YOUR GOODS BY CAR, PLANE OR TRUCK. AFTER ALL, YOUR SAMPLES ARE YOUR BUSINESS!
CANVAS DIMENSIONS NYLON BEST USED FOR THESE TYPES OF GARMENTS
#GT38 38 X 24 X 15" ----------- CHILDRENSWEAR, SHIRTS, BLOUSES
#GT42 42 X 24 X 15" #GT42N JACKETS, SWEATERS, SWIMWEAR, BODYWEAR
#GT48 48 X 24 X 15" #GT48N SHORT DRESSES, PANTS, 3/4 LENGTH COATS
#GT57 57 X 24 X 15" #GT57N DRESSES, LINGERIE, COATS, ROBES
#GT66 66 X 24 X 15" #GT66N FLOOR LENGTH DRESSES, GOWNS, ROBES
#GT72 72 X 24 X 15" #GT72N BRIDAL GOWNS ONLY
COLOR: NAVY BLUE
CANVAS: HEAVY-DUTY 10 TO 14 OZ. COTTON DUCK OR COTTON TWILL IN A DURABLE WATER REPELLANT FINISH. FULLY TESTED NOT TO BLEED. STRONGEST GOODS THAT ARE THE MOST TEAR OR SLASH RESISTANT. MOST RECOMMENDED.

NYLON: 200 DENIER OXFORD NYLON WITH A POLY COATED WATERPROOF FINISH. LIGHTWEIGHT, ATTRACTIVE, STAYS CLEAN, BUT NOT AS STRONG AS CANVAS.
THE MOST DURABLE FABRICS
RACK COVERS / RACK CARRIERS
BALLISTIC NYLON
#RB50: CARRY CASE[FOR COLLAPSIBLE ROLLING RACKS]

SUPER-STRONG, 1000 DENIER CORDURA NYLON, FOAM PADDED AND TRIPLE REINFORCED. HEAVY WEB HANDLES, ZIPPERED ON THREE SIDES, PORTFOLIO STYLE, FOR EASEOF USE TRANSPORTS OUR "WHEELABOUT"AND "BIG WHEELER" RACKS ON THE AIRLINES.
HOLDS 1-2 RACKS: #SWF and #BW5 RACKS
#ZRC4L:[50L X 24W X 60"H] ZIPPERED RACK COVER

LOCKABLE, ZIPPERED RACK COVER PROVIDES WORRY-FREE SECURITY AT TRADESHOWS OR TRANSPORTING GARMENTS BETWEEN STORES. THE #ZRC4L FITS THE #SWF-ADJ AND #BW5 RACKS. MADE OF HEAVYWEIGHT WATERPROOF NYLON WITH A DURABLE ZIPPER CLOSURE ON BOTTOM.
RACK CARRIER
1000 DENIER CORDURA NYLON!
RACK COVER
WATERPROOF / LOCKABLE
1
ORDERING 1,2,3
NAVIGATE
RELATED ITEMS
STILL MADE IN THE USA!
VINYL SUIT COVER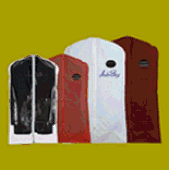 NON-WOVEN BAGS
OPAQUE BRIDAL COVERS
CLEAR GOWN BAGS
CLEAR DRAWSTRING BAG





WARDROBE SUPPLY
Canvas Garment Bags - GripTite Garment Bag - Wardrobe Supply from Travel Auto Bag
info@travelautobag.com | TEL: 1-800-361-6142 | FAX: 1-201-837-9427
COMPLETE INDEX
RB50
ZRC4L
GT38 - GT72