#SWF-ADJ: FOLDING WHEELABOUT RACK
16 GUAGE ROUND TUBING, HELI-ARC WELDED, END BASE SECTIONS REINFORCED WITH SOLID STEEL BARS. TRIPLE CHROME PLATED FOR AN ALL-WEATHER FINISH. REINFORCED 12" PULLOUTS. ADJUSTABLE HEIGHT. COLLAPSES EASILY TO FIT CAR TRUNKS. HIGH QUALITY 4"
DOUBLE BALL BEARING CASTERS.

SIZE: 48 X 22 X 54-64"
FOLDED: 48 X 22 X 5"
FOLDS FLAT IN SECONDS!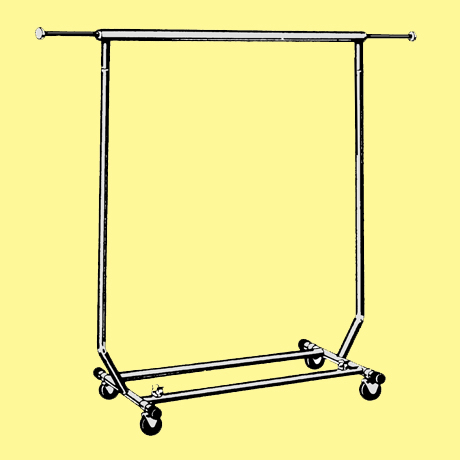 SEND ORDER FORM AS EMAIL ATTACHMENT
COLLAPSIBLE ROLLING RACKS
CHROME
THE "BIG WHEELER"
info@travelautobag.com | TEL: 1-800-361-6142 | FAX: 1-201-837-9427
11
COMPLETE INDEX
NAVIGATE
RELATED ITEMS





SQUARE TUBING, CHROME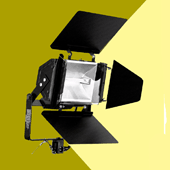 SHOW LIGHT
CHROME WIRE HANGER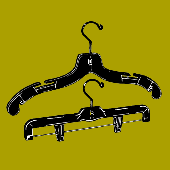 PLASTIC HANGERS
DO NOT CONFUSE THE RACKS ON THIS PAGE WITH ANY OTHERS ON THE MARKET! OUR RACKS ARE MADE EXCLUSIVELY TO OUR SPECIFICATIONS TO INSURE THE LONGEST LASTING, EASIEST TO USE COLLAPSIBLE RACKS AVAILABLE TODAY! COMPETITORS USE LIGHTER GUAGE TUBING AND NON-REINFORCED BASE SECTIONS. JUST WEIGH ONE OF THEIRS, AND THEN ONE OF OURS, THE 3 TO 4 LB. DIFFERENCE WILL TELL THE TALE!
BUY THE ORIGINAL,
BUY THE
BEST!
#BW5-ADJ: FOLDING "BIG WHEELER"
MADE OF HEAVY-DUTY 16 GUAGE SQUARE TUBING, 25% STRONGER THAN ROUND. HELI-ARC WELDED AND TRIPLE CHROME PLATED. END BASE SECTIONS ARE REINFORCED WITH SOLID STEEL BARS. [12"] LOCKING PULLOUTS. JUMBO 5" SUPER-GEL CASTERS FOR THE EASIEST ROLLING WHEELS ON THE MARKET. FOLDS FLAT EASILY. ADJUSTABLE IN HEIGHT: 54-64".

SIZE: 48 X 22 X 54-64" FOLDED: 50 X 22 X 5"
VELVET HANGERS
CONTOUR PLASTIC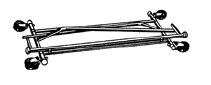 WHEN YOU NEED THE BEST . . .
BUY OUR STRONGEST, EASIEST
ROLLING COLLAPSIBLE RACK!
LARGE OR HEAVY LINES NEED OUR "BIG WHEELER", THE WORKHORSE TO EASE YOUR BURDEN LIKE NO OTHER RACK EVER MADE!! HOWEVER, BEING 8 LBS. HEAVIER THAN THE "WHEELABOUT", THIS RACK IS NOT FOR EVERYONE, BUT FOR THOSE WHO NEED THE ULTIMATE IN STRENGTH AND FUNCTION, THE "BIG WHEELER" IS THE BEST . . . BAR NONE!
NOW, BETTER THAN EVER!
**THICKER GUAGE TUBING
**REINFORCED PULLOUTS
**EVEN BETTER WHEELS
**NO EXTRA COST
WARDROBE SUPPLY
Collapsible Rolling Racks - Folding Rack with Wheels - Portable Clothes Rack
SWF-adj
ORDERING 1,2,3
BW5-adj
5" JUMBO WHEELS