SEND ORDER FORM AS EMAIL ATTACHMENT
SHOW LIGHTS
QUARTZ-HALOGEN
SHO-LITE ACCESSORIES
info@travelautobag.com | TEL: 1-800-361-6142 | FAX: 1-201-837-9427
12
COMPLETE INDEX
ORDERING 1,2,3
NAVIGATE
RELATED ITEMS





QUARTZ-HALOGEN BULBS
CANVAS GRIP-TITES
CHROME WIRE HANGER
PLASTIC HANGERS
WOOD HANGERS
SHO-LITES ARE THE MOST POWERFUL, PORTABLE AND PROFESSIONAL ILLUMINATION FOR TRADE SHOWS AND FASHION PRESENTATIONS. QUARTZ-HALOGEN PROVIDES THE PERFECT COLOR REGISTRATION NEEDED TO SHOW GARMENTS IN THEIR "TRUE LIGHT". CUSTOM MADE TO OUR SPECS, ONLY THESE UNITS HAVE THE FEATURES TO HANDLE THE UNIQUE DEMANDS OF THE APPAREL SALESMAN! U/L RATED AND APPROVED FOR MOST HOTELS!
#QL600: COMPACT LIGHTING
UNIT IS A LIGHTWEIGHT VIDEO FLOOD THAT IS IDEAL FOR LIGHTING AT TRADE SHOWS, WHETHER IN HOTEL ROOMS OR OPEN BOOTH SHOWS. DURABLE AND WELL VENTED ALUMINUM HOUSNG. CAN BE USED WITH A TRIPOD OR CLAMP. HAS A 3/8-5/8" UNIVERSAL MOUNT, 10 FT. GROUNDED LINE WITH AN IN-LINE SWITCH. U/L RATED. BULB IS NOT INCLUDED.
USES OUR #600W BULBS.
#48: GAFFER CLAMP CAN BE USED WITH EITHER THE #QL600 OR #QLITE TO MOUNT ON TUBING OR ANY CONVENIENT SURFACE. MAKE SURE TO CLAMP UNIT AWAY FROM ANY FLAMMABLE MATERIALS!

#WW: WELTERWATE TRIPOD IS SUITABLE FOR
EITHER UNIT. EXTENDS HIGH ENOUGH FOR LIGHT TO BE BOUNCED OFF CEILING FOR BETTER DISPERSION. ADJUSTS 24 TO 84" HIGH. HEAVY-DUTY ALUMINUM.
ITEM NO. WATTAGE USED FOR BULB LIFE
#600W 600 WATTS #QL600 75 HOURS
#500W 500 WATTS #QLITE 2000 HOURS
#1000W 1000 WATTS #QLITE 400 HOURS
AS WITH ALL HIGH-POWERED LIGHTING,
PROLONG ITS LIFE BY SHUTTING IT
OFF FOR TEN MINUTES EVERY FEW HOURS. KEEP UNIT OUT OF REACH AND NEVER MOUNT NEAR FLAMMABLE MATERIALS. IN COLD WEATHER, ALLOW BULB TO ADJUST TO ROOM TEMPERATURE BEFORE TURNING ON. DO
NOT TOUCH BULB WITH BARE FINGERS.
VELVET HANGERS
CONTOUR PLASTIC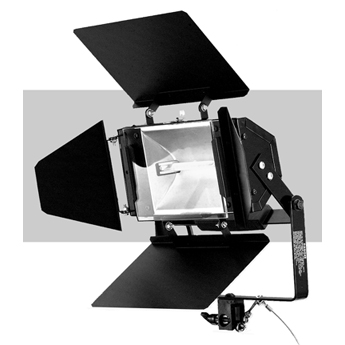 NOW WITH SAFETY GLASS U/L RATED.
APPROVED FOR MOST LOCATIONS.
MADE IN THE USA!
#QLITE: HEAVY-DUTY LIGHTING
PRO STUDIO QUARTZ-HALOGEN FLOOD FOR LARGER ROOMS. GREAT VENTILATION, SAFETY FEATURES AND U/L RATING. TAKES A TUBULAR QUARTZ BULB FOR BRILLIANT LIGHT AND TRUE COLOR REGISTRATION. BARN DOORS GIVE PRECISE LIGHTING CONTROL. 3/8" MOUNT FOR STAND OR CLAMP. 9 FT. GROUNDED CORD WITH IN-LINE SWITCH, BULB NOT INCLUDED.
USES #500W OR #1000W BULBS.
DAYLIGHT
TRUE
BRILLIANT
COLOR
TRIPOD STAND
GAFFER CLAMP

600 WATT
500-1000 WATT
SAFETY REMINDER
Trade Show Lighting - Lighting Equipment - Quartz-Halogen Lights
QL600
QLITE