SEND ORDER FORM AS EMAIL ATTACHMENT
PLASTIC CONTOUR HANGER
BLACK SEMI-GLOSS
BLACK EPOXY HANGERS
info@travelautobag.com | TEL: 1-800-361-6142 | FAX: 1-201-837-9427
17
COMPLETE INDEX
ORDERING 1,2,3
NAVIGATE





BLACK / BLACK HOOK
ELEGANT AND AFFORDABLE, OUR DISPLAY HANGERS ARE THE ULTIMATE FOR SHOWING LADIES OR MENS COATS, SWEATERS, TOPS OR DRESSES. HIGH NECKLINES AND 1-1/2" DEEP SHOULDER CONTOURS ALLOW GARMENTS TO DRAPE PERFECTLY, WITHOUT SLIPPING OR CREASING. YOUR BEST GARMENTS DESERVE THE BEST HANGERS, NOTHING WILL FLATTER THEM MORE THAN OUR CONTOUR MOLDED HANGERS!
#TL16: LADIES - 16 X 1½"
CONTOUR DISPLAY HANGER

#TL16SK2: 16 X 1½" X 2" DROP
#TL16SK10: 16 X 1½" X 10" DROP
FULL BOXES
ONLY PLEASE:
BOX=100 PCS
#620BXY: DRESS HANGER
[BLACK/ BLACK HOOK]
#660BXY: SKIRT HANGER
[BLACK/ BLACK HOOK]

SUPER-HEAVYWEIGHT, SEMI-GLOSS PLASTIC HANGERS WITH BLACK EPOXY HOOKS. COORDINATES WITH OUR CONTOUR PLASTIC HANGERS. A NICE COMPLIMENT TO THE BLACK FLOCKED HANGERS, TOO!
DE-LUXE ALL-BLACK HANGERS
IN A SEMI-GLOSS FINISH
ELEGANT CONTOUR JACKET AND DRESS HANGER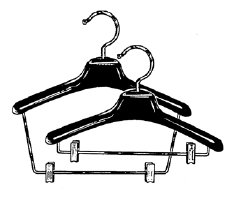 #TL16
THE BEST SHAPE
FOR THE
BEST DRAPE!
BEAUTIFUL BLACK
SEMI-GLOSS FINISH
SHOW-OFF
COORDINATES!
#620BXY BLACK DRESS
#660BXY BLACK SKIRT
FULL BOXES:
BOX=100 PCS
BLACK HOOKS WITH BLACK
BARS AND CLIPS
RELATED ITEMS
CHROME WIRE HANGER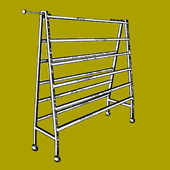 ROLLING LADDER RACK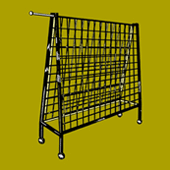 BLACK GRID DISPLAY
SHOWROOM RACKS
PLASTIC HANGERS
ROLLING GRID RACK
Plastic Display Hangers - Shoulder Shaped Hanger - Plastic Hanger Forms