SHOWROOM DISPLAY RACKS
A-FRAME / CHROME
ONE-SIDED GRID DISPLAY RACK
18
COMPLETE INDEX
ORDERING 1,2,3
NAVIGATE
RELATED ITEMS




CHROME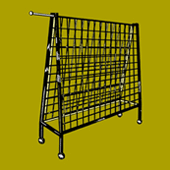 BLACK GRID DISPLAY
DELUXE ROLLING RACKS
#CDC5X: TWO-SIDED SIX-TIER RACK
TWO-SIDED 'A'-FRAME UNIT HAS 1" SQUARE TUBULAR FRAMES WITH SIX-TIERED LADDER
DISPLAY AREAS ON BOTH SIDES. COMPLETE
WITH 12" PULLOUTS AND 2½" TWIN WHEEL
CASTERS. UPS SHIPPABLE!!
SIZE: 5'L X 21"W X 66"H FINISH: ALL CHROME
EASY SETUP, EASY TO SHIP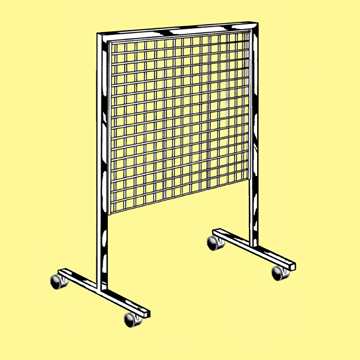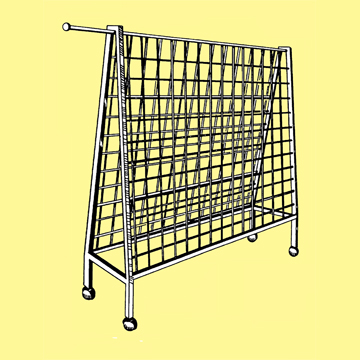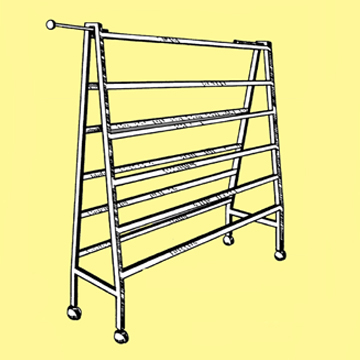 MAGNIFICENT ROLLING SHOWROOM DISPLAY RACKS
DESIGNED FOR EASY ASSEMBLY AND EASY SHIPPING NATIONWIDE!
#CDC5X
#GDC2X: TWO-SIDED GRID RACK / 4'L X 66"H
#GDC2X/5L: TWO-SIDED GRID RACK / 5'L X 66"H
TWO-SIDED 'A'-FRAME RACK HAS TWO 1" SQUARE TUBULAR END PANELS CONNECTED TO 4' X 5" GRID PANELS MADE OF ¼" ROD IN A 3" SQUARE PATTERN. GRIDS ARE SPLIT IN 2 SECTIONS FOR EASY SHIPPING. 12" PULLOUTS AND 2½" TWIN
WHEEL CASTERS. UPS SHIPPABLE!!
SIZE: 5'L X 21"W X 66"H FINISH: ALL CHROME
#GDC2X
#GDC2X/5L
UPS SHIPPABLE
UPS SHIPPABLE
UPS-ABLE!
#GR1X: ONE-SIDED GRID RACK
ONE-SIDED DISPLAY UNIT WITH 4' X 4" GRID PANEL MOUNTED TO 1" SQUARE TUBULAR
UPRIGHTS AND BASE: 2½" TWIN WHEEL CASTERS. WITH SNAP-TOGETHER DESIGN FOR EASY ASSEMBLY AND SHIPPING.
SIZE: 4'L X 24"W X 64" FINISH: ALL CHROME
#GR1X
UPS SHIPPABLE
SPACE-SAVING, NESTABLE
BLACK ROLLING RACK
RECTANGULAR RACKS
WARDROBE RACKS
CLASSIC PIPE RACKS
Showroom Display Fixtures - Rolling Garment Racks - A-Frame Display Fixture
nuease@aol.com | TEL: 201.723.8941 | FAX: 1-201-837-9427
SEND ORDER FORM AS EMAIL ATTACHMENT
WE WILL PRINT & DELETE IMMEDIATELY
AND SAVE AS A SECURE OFF-LINE FILE!