SHOWROOM DISPLAY RACKS
TRIPLE-CHROME PLATED
RECTANGULAR ROLLING RACK
info@travelautobag.com | TEL: 1-800-361-6142 | FAX: 1-201-837-9427
19
NAVIGATE


TRIPLE-CHROME PLATED
ADJUSTABLE HEIGHT
#400EXT: DELUXE ROLLING RACK
CONSTRUCTED OF HEAVY-DUTY 1¼" TRIPLE CHROME TUBING. END BASE SECTIONS ARE HEAVY 2" O.D. TUBING. HEAVY CAST FITTINGS LEND STABILITY WHILE 12" PULLOUT EXTENSIONS AND LARGE 4" EASY ROLLING CASTERS MAKE THIS THE MOST DESIRABLE SHOWROOM RACK.
SIZE: 5'L X 66"H + 12" PULLOUTS

#400TALL: EXTRA-TALL DELUXE RACK
SIZE: 5'L X 79"H + 12" PULLOUTS

#463EXT: TWO TIERED ROLLING RACK
SAME AS THE #400EXT, BUT WITH A SECOND ADJ. HANGRAIL. ADDITIONAL HANGRAILS AVAILABLE. 79" HIGH
NOT TO BE CONFUSED WITH OUR #SWF OR #BWF RACKS AS SHOWN ON PG#11. THOSE ARE FOLDING RACKS FOR THE ROAD! THE #400EXT IS A SHOWROOM RACK, NOT COLLAPSIBLE.
UPS-ABLE!
#386ADJ: RECTANGULAR ROLLING RACK
DESIGNED FOR DURABILITY AND STYLE! CHROME PLATED TO A MIRROR FINISH. MADE OF 5/8" X 2" RECTANGULAR UPRIGHT FRAMES AND BOX BASE WITH AN 1¼" ROUND HANGRAIL FOR A HI-TECH LOOK THAT IS SUPER STRONG AND EASY TO HANDLE. BOX BASE LENDS RIGIDITY AND 2½" TWIN WHEEL CASTERS ARE EASY ROLLING. RACK IS FULLY ADJUSTABLE 54" TO 76" HIGH FOR GREAT VERSATILITY.
SIZE: 5'L X 54-76" HIGH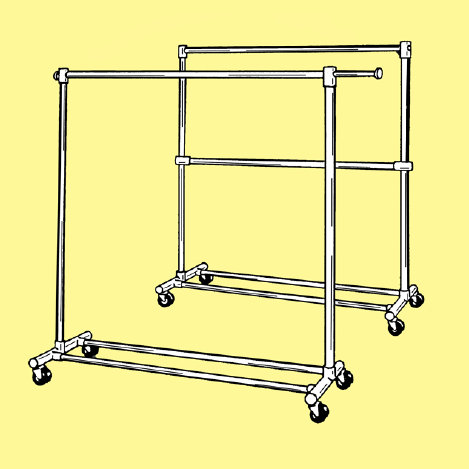 CALLED THE NEVER-SAG FOR ITS HEAVY 2" DIAMETER CAST TUBULAR BASES AND 1-1/4" HANGRAIL. THESE RACKS HAVE EVOLVED FROM A 50 YEAR OLD DESIGN THAT THE MOST EXCLUSIVE COUTURIERS AND FURRIERS HAVE PREFERRED FOR ITS ELEGENCE AND ABILITY TO WITHSTAND HEAVY USE. YOU ARE SIMPLY BUYING THE BEST.
#400EXT
#463EXT
UPS SHIPPABLE
THE "NEVER-SAG" RACK
MAGNIFICENTLY MODERN ROLLING RACK FOR THE CONTEMPORARY SHOWROOM. TASTEFUL AND DURABLE TO LAST FOR YEARS WITH GRACE AND STYLE.
#386ADJ
UPS SHIPPABLE
RECTANGULAR BASE, UPRIGHTS
BUDGET COSTUMERS
RELATED ITEMS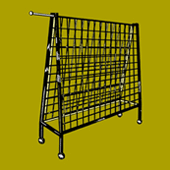 BLACK GRID DISPLAY
DELUXE ROLLING RACKS
BLACK ROLLING RACK
RECTANGULAR RACKS
WARDROBE RACKS
12" PULLOUTS
HEIGHT ADJUSTABLE
SEND ORDER FORM AS EMAIL ATTACHMENT
COMPLETE INDEX
ORDERING 1,2,3



Rolling Racks - Garment Display Fixtures - Showroom Display Rack