RECTILINEAR STEEL GIVES THE "ALTA" SYSTEM A MODERN, STRUCTURAL LOOK. SATIN CHROME FINISH, MAPLE SHELVES AND TOPS, MAKE AN ELEGANT APPEARANCE. WALL MODULES USE HIDDEN WALL MOUNTS FOR A SLEEK LOOK. "ALTA" IS AN EFFICIENT WAY TO DISPLAY MERCHANDISE AND YOU CAN USE STANDARD HARDWARE THROUGHOUT.

THE "ALTA" WALL SYSTEM
SATIN CHROME
"ALTA" MERCHANDISERS
25
NAVIGATE

SATIN CHROME
#T500SC: WALL MODULE [96 X 50 X 16"]
STREAMLINED PERIMETER MERCHANDISING UNIT. UNIVERSAL, REAR DOUBLE-SLOTTED UPRIGHTS [½" SLOTS ON 1" CENTERS]. ACCEPTS REAR MOUNTED 48 X 12" SHELVES AND 48"L HANGRAILS.
#T502SC: CROSS MDSG 4-WAY RACK
[4] DISPLAY ARMS AND [8] OPTIONAL SHELVES. BUILT-IN SIGN FRAME. [4] 16" RECT. ARMS, ADJ. 45-72"H. 2" SQUARE FRAME WITH ½" SLOTS.
#T500SC
HIDDEN WALL MOUNTS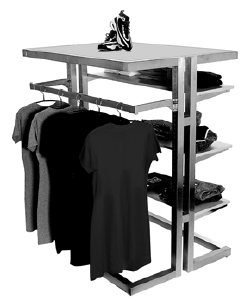 #T503SC-H: 2-SIDED ISLAND MULTI-MERCHANDISER WITH SHELVES AND
HANGRAILS. TOP SHELF FOR DISPLAYS. 2" SQUARE TUBING WITH ½" SLOTS.

#TSF481H: 13X48X¾"
#TSF121H: 11¾X12X¾"
MAPLE MELAMINE SHELVES


#GHSL12-SC
#GHSR12-SC
#RE4-SC
#CR3-SC
#CR12-SC
#RH5H-SC
#RH12-SC
#T502SC
#T503SC
BENDABLE MANNEQUINS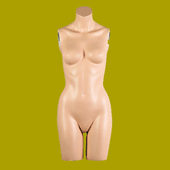 SYSTEM MANNEQUINS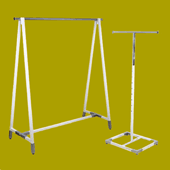 EURO WALL SYSTEM
RELATED ITEMS
ROLLING LADDER WALL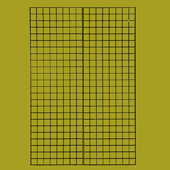 GRID WALL DISPLAY
LADDER WALL UNITS
COMPLETE INDEX
ORDERING 1,2,3



Wall Display Fixtures - Store Perimeter Rack - Garment Wall Fixture
nuease@aol.com | TEL: 201.723.8941 | FAX: 1-201-837-9427
SEND ORDER FORM AS EMAIL ATTACHMENT
WE WILL PRINT & DELETE IMMEDIATELY
AND SAVE AS A SECURE OFF-LINE FILE!